Drs. Godfrey Kisigo, Grace Ruselu, and Robert Peck use wearable sleep tests to validate sleep questionnaires in a low-income setting among people with and without HIV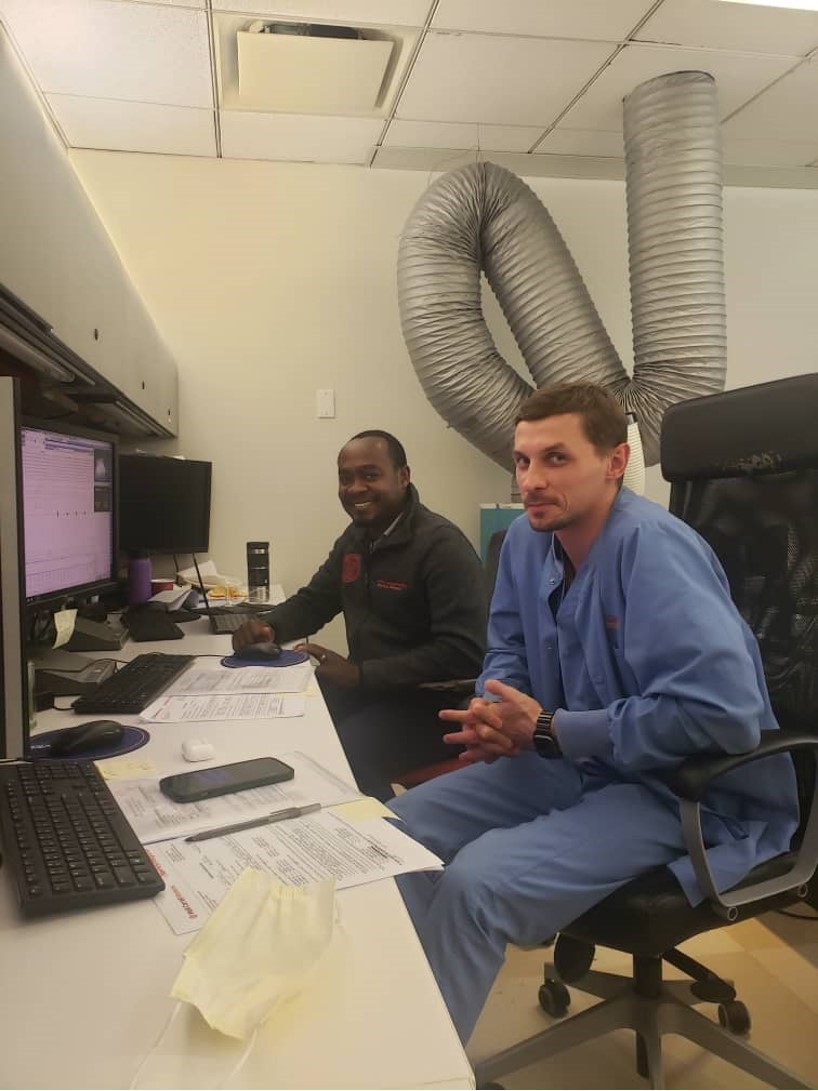 WCM research fellow, Dr. Godfrey Kisigo, research assistant, Dr. Grace Ruselu, and WCM Associate Profess of Medicine and Pediatrics, Dr. Robert Peck recently completed enrollment of an NIH-funded study in Mwanza, Tanzania on the impact of sleep disorders on cardiovascular disease.
Sleep is considered the third pillar of health and equally important as diet and physical activity. It is essential for healthy well-being and functioning of the human body. Poor sleep in both adult and pediatric populations is associated with the deterioration of human body functioning and increased cardiovascular risks. The understanding of sleep as a multidimensional concept is important for better prevention and treatment of cardiovascular diseases since sleep plays many roles in the maintenance of cardiovascular health.
Studies have shown that quality of sleep is affected by a variety of cultural, social, psychological, behavioral, pathophysiological, and environmental factors. Poor sleep is prevalent in the general population and is even worse in people living with HIV (PLWH), who also suffer disproportionately from cardiovascular disease (CVD). It is estimated that CVD contributes to nearly 40% of early mortality in PLWH, with the median age of CVD-related death in PLWH being 57 years versus 82 years in the general population.
CVD is on the rise in sub-Saharan Africa (SSA), the home to approximately two-thirds of the world's PLWH. There is an urgent call to study sleep as a non-traditional risk factor contributing to the surge of CVD in SSA, however, the validation of commonly used sleep questionnaires, such as the Pittsburg Sleep Quality Index and Epworth Sleepiness Scale, is limited in SSA.
With this understanding, Drs. Kisigo, Ruselu, and Peck will quantify the prevalence of sleep disorders in East Africa, where there is currently limited data on sleep patterns. They are using objectively measured sleep data from the Mwanza HIV&HTN Sleep Cohort to assess the performance of the commonly used sleep questionnaires. The Mwanza HIV&HTN Sleep Cohort is a longitudinal cohort of 500 PLWH and 500 HIV-uninfected adults. It was established in 2022 to determine the temporal relationship between sleep disorders, sympathetic nervous system activity, and non-dipping and whether these relationships vary by HIV status or gender.
The Mwanza HIV&HTN Sleep Cohort provides a unique opportunity to validate sleep questionnaires in a low-income setting where HIV is endemic. This process will ensure that sleep questionnaires are valid in this setting and can be used to assess the quality of sleep among PLWH in HIV care and treatment facilities. Eventually, these low-cost tools will support the provision of holistic care for PLWH.
Dr. Godfrey Kisigo had an opportunity to visit the Weill Cornell Medicine Center for Sleep Medicine in New York to get hands-on experience in sleep health evaluation and treatment. His time at the Center for Sleep Medicine was transformational – it equipped him with essential skills to support the research team in Mwanza to collect and manage data on sleep parameters. When asked about his experience at the Center for Sleep Medicine, Dr. Kisigo said, "I had a wonderful time there. Colleagues at the Center were incredibly supportive and went above and beyond to ensure that I was exposed to different methods used to evaluate patients with sleep complaints. The knowledge and skills I gained during my time at the Center have enabled me to make fundamental contributions to the team here in Mwanza."
Weill Cornell Medicine Center for Global Health 402 East 67th Street, 2nd Floor New York, NY 10065 Phone: (646) 962-8140 Fax: (646) 962-0285