Dr. Nils Daulaire Delivered October's Global Health Grand Rounds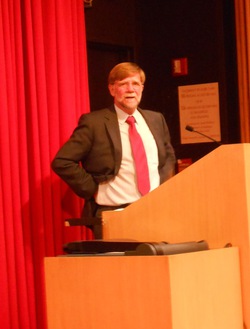 Dr. Nils Daulaire, Director of the Office of Global Affairs in the U.S. Department of Health and Human Services, delivered October's Global Health Grand Rounds Lecture on Monday, October 22nd.  His lecture, titled "Health in the Time of Globalization," painted a picture of the double burden of non-communicable and communicable diseases.  He focused on reproductive, maternal, and child health, drawing from his 15 years of experience working on maternal health delivery in low-income countries such as Nepal, Bangladesh, Mali, and Haiti.  Dr. Daulaire explained several key strategies for promoting family health, including Vitamin A supplementation and women's access to contraceptives.  He also outlined several economic, political, and cultural challenges to implementing proven health interventions. By incorporating photographs and reflections from his own personal experiences as a medical student and a doctor, Dr. Daulaire served as an inspiration to our Weill Cornell students and doctors who are at the outset of their careers in global health.
Next month's Global Health Grand Rounds will be on November 14th, featuring James Orbinski, the Former International President of President of Médecins Sans Frontières and Founder of Dignitas International.  You can find the Global Health Grand Rounds schedule here. 
Weill Cornell Medicine Center for Global Health 402 East 67th Street, 2nd Floor New York, NY 10065 Phone: (646) 962-8140 Fax: (646) 962-0285