Celebrating CGH founding director, Dr. Warren D. Johnson, and 60 years of contributions to global health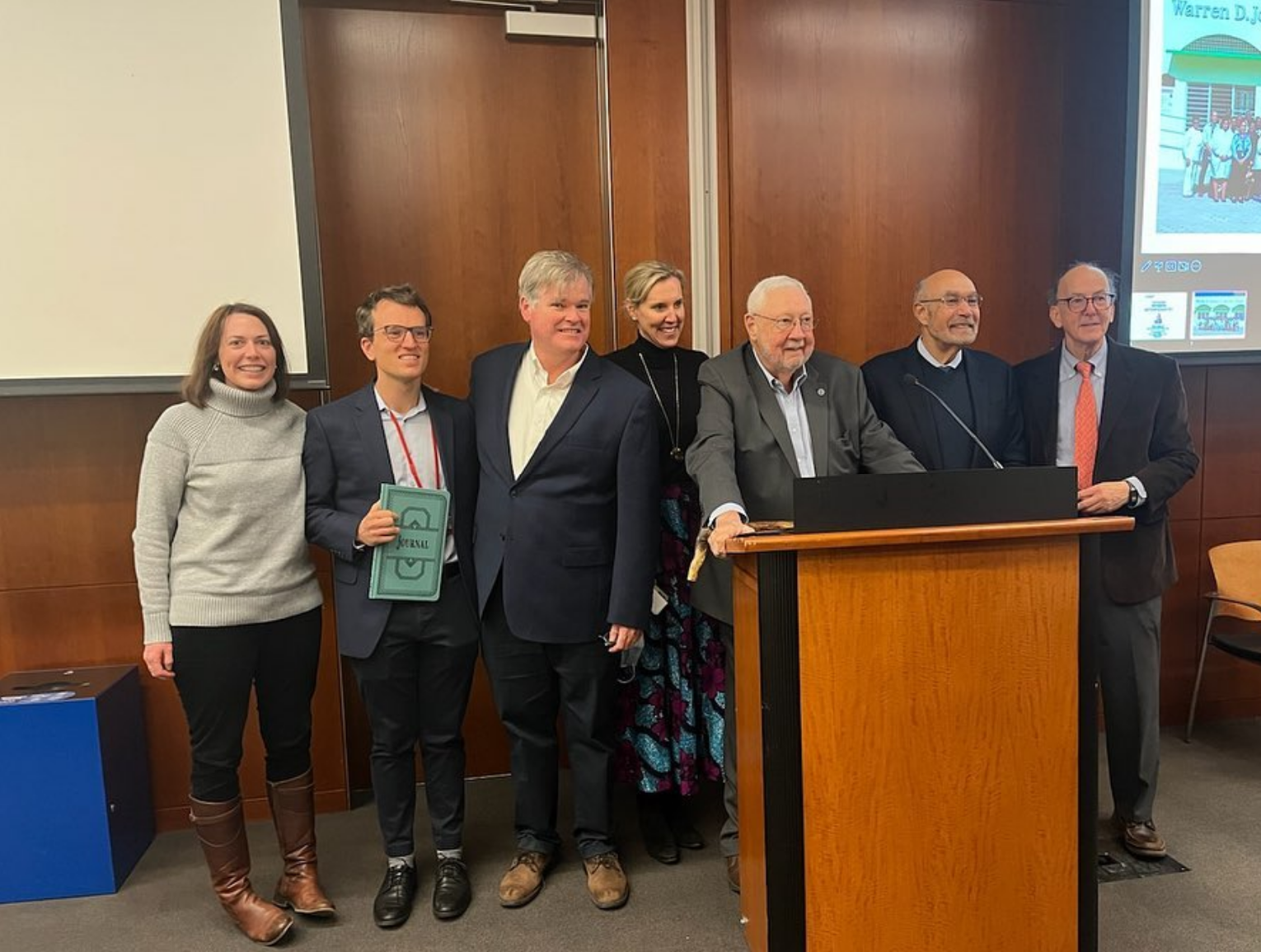 The Center for Global Health recently celebrated the more than 60-year career of Dr. Warren D. Johnson, the founding director of Weill Cornell Medicine's Center for Global Health. Dr. Johnson has committed his career to research and training in resource-poor countries and established outstanding research and long-term training programs in Brazil (1964), Haiti (1980), and Tanzania (2003), all precedent-setting models of global health collaboration. Each program's central feature has been the exchange of faculty, fellows, and students between their institutions and the US, and have produced several generations of outstanding Haitian, Tanzanian and Brazilian investigators. Dr. Johnson's work continues to bring significant positive health impacts to both adult and pediatric populations in resource-poor settings across the world today. 
Dr. Johnson earned his B.S. from Carroll College and M.D. from Columbia University College of Physicians and Surgeons in 1962. From 1962-64, he was an intern and resident at The New York Hospital, and went on to become an internist at the United States Air Force in Korea from 1964-66. Soon after, Dr. Johnson completed an infectious disease fellowship at Cornell University Medical College (1966-68) and became a Professor of Medicine and the sole infectious disease attending doctor of his time in 1969 at NY Hospital. Other highlights of Dr. Johnson's clinical career include his volunteer work at a Cambodian refugee camp in Thailand, leadership as the Chief of the Division of International Medicine (1986-95) and Chief of the Division of International Medicine and Infectious Disease at Weill Cornell Medical College (1995-2008) and launch of PEPFAR in Haiti alongside Dr. Jean Pape in the 2000s.
He has published over 150 academic articles across various fields, including some of the first ground-breaking clinical trials in HIV/AIDS and tuberculosis. He has conducted clinical and epidemiological research to define the natural history and therapy of leishmaniasis and leptospirosis in Brazil, and of AIDS and tuberculosis in Haiti and Tanzania.  He has received continual support from the National Institutes of Health for his studies in Brazil and Haiti, also receiving an NIH Merit Award in 1990. Dr. Johnson has served as a mentor to over 70 postdoctoral trainees, as a member of the American Board of Internal Medicine, and in 1990, established the international medical student electives at Weill Cornell Medicine.
Dr. Johnson's celebration of 60 years of service also marks the inauguration of the W.D. Johnson Scholars Program to support a medical student's year abroad at one of the Center for Global Health's global sites doing research. This year's recipient was Nick Roberts, 3rd-year medical student at Weill Cornell Medical College.
We congratulate Dr. Johnson for his longstanding commitment to global health training, research, and clinical work and for his 60 years of service!
Article by Enock Miyaye, Megan Urry, and Megan Willkens.
Weill Cornell Medicine Center for Global Health 402 East 67th Street, 2nd Floor New York, NY 10065 Phone: (646) 962-8140 Fax: (646) 962-0285