Dispatch from GHESKIO physician, Dr. Macarthur Charles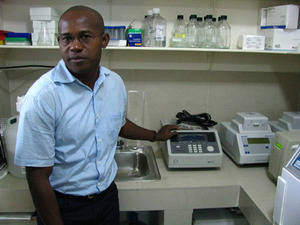 Macarthur Charles, MD, PhD is a Haitian physician and instructor in medicine at Weill Cornell Medical College who has worked at GHESKIO since 2005. He is part of the team of physicians, scientists and technicians from GHESKIO, Fondation Mérieux, and Weill Cornell Medical College that established GHESKIO's new tuberculosis (TB) diagnostic laboratory.
The continued treatment and prevention of tuberculosis in Port-au-Prince is critical. Tuberculosis is the second leading infectious disease killer in the world, and common in Haiti.After the earthquake, the GHESKIO TB sanatorium collapsed. It housed 80 patients; four died. The surviving patients are receiving their TB medications and medical care. The National Sanatorium in Port-au-Prince was also severely damaged.The diagnosis of TB requires a laboratory for microscopy and mycobacteria culture. The GHESKIO TB laboratory is the only functioning lab in the country. We are performing TB diagnostics for our patients and for other field hospitals in the city. We are also performing TB diagnostics on sputum samples sent by helicopter for patients on the US Comfort hospital ship. Comfort provides acute medical and surgical care but does not have the facilities to diagnose and treat patients with TB.TB is easily transmitted in close quarters (such as aboard a hospital ship). Therefore, it is imperative both from a patient-care and a public health standpoint that we quickly identify, isolate and treat patients with active TB. We have established a TB Field Hospital at GHESKIO with large tents for TB patients who suffered trauma and need post-operative care, and patients with multidrug-resistant TB. Today we received patients from the University Hospital. We anticipate receiving many more.An on- call schedule has been drafted and a physician and an RN are on call each night. A social worker will be assigned to the patients to provide counseling. Deliveries of food, sheets, and towels arrived today.