In a recent trip to Haiti, Chelsea Clinton and new Clinton Foundation CEO, Donna Shalala, visited GHESKIO to observe the women's empowerment programs and tour the newly opened cholera treatment center. Their visit to GHESKIO's Training Center highlighted the importance of women's vocational training and entrepreneurship opportunities to increase women's participation in the formal economy.
GHESKIO's women's empowerment programs include support groups for victims of gender-based violence, teen clubs for HIV-infected adolescent girls, microcredit programs for HIV-infected women, vocational training for female commercial sex workers and rape victims, and more. These programs were established to offer various training and empowerment opportunities to women and adolescent girls living in the slums neighboring the clinic.
The vocational training programs are primarily focused on providing opportunities for both current and former commercial sex workers to build job and life skills. Women in the program learn to make crafts and furniture that are then available for purchase in local markets, retailers, or hotels. Women who once relied on earnings from commercial sex work are now able to make plans for their futures and provide for their families without the high risk for HIV, other sexually transmitted diseases, early pregnancy and more. Chelsea Clinton and Donna Shalala met some of the women in the programs during their visit to the Training Center and had the opportunity to see the artisan products they create.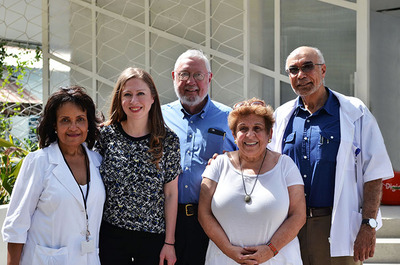 From left to right: Dr. Marie-Marcelle Deschamps, Chelsea Clinton, Dr. Warren Johnson, Donna Shalala, Dr. Jean Pape